KEI SYSTEM is making and developing computer systems for ships. Our main products are as follows.
・DATA LOGGER: a device monitoring and recording data of many devices on a ship; for example, engine temperature, pressure, and so on.
・VALVE CONTROL SYSTEM: a device operating valves, pumps and so on. For example, it can operate valves of Ballast tank to adjust hull inclination.
We will provide customers with these products customized in accordance to the customer's requests.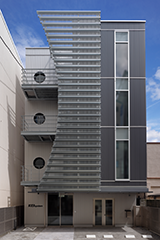 Official name
KEI SYSTEM CO.,LTD.
(KAWAI ELECTRONICS INNOVATION SYSTEM CO.,LTD.)
Established
Oct. 30th 1986
Office Address
2-23, 2-chome, Kishinosato, Nishinari-ku, Osaka-shi, Osaka 557-0041, Japan
TEL +81-6-6661-1151
  (Business hours : 8:30 – 17:30 JST/UTC+9)

Company Slogan
●Contribute to the Society through Engineering.
●Keep effort to have "Knowledge / Expert / Innovation"
Main Business
●Development and manufacture of computer system hardware/software.
●Development or real time control. Industrial use computer system for Monitoring, Instrumentation and Control on marine use and lsnd use.
(for marine use products, approved by LR, ABS, NK, DNV GL, CCS)
●Web-base Client / Server system for Remote monitoring.
●Technical consultant of computer system for industrial use.